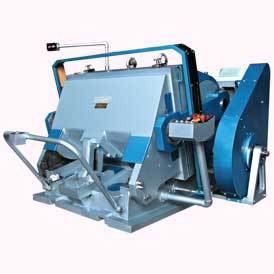 die cutting creasing & embossing platen
Product Description
"SUPER SUJATA" Die Cutting Machine is designed for heavy jobs of cutting, creasing and embossing of paper, Linoleom, Card Board, Corrugated Board, Plastic & PVC material etc. Machine is with Electro-megnetic Clutch & Brake, Dwell Timing Device, Electric Impression Counter, Safety guards for operator's safety, Circuit Locking & Circuit Breaker.
Equipped with Electro-magnetic Clutch & Brake system which can be adjusted as required.
Main driving wheel shaft with one set of double helical gears. For sizes 25"x37" or above two set of helical gears are provided.
All operations with push Buttons.
Built-in Star Delta starter for motors 7.5 H.P. or above.
Variable Dwell Timing Device (0-6 seconds) for fine & quality jobs.
Electric impression counter.
Quick and simple adjustment of impression can be made through two eccentric Bushes.
Safety guards for operator's safety provided.
Special designed panel don't require any neutral supply.
Circuit locking facility provided.
Circuit breakers are provided for safeaty of panel.
Accessiries Included
*Two steel chases * Delivery & feeding table * One set of tools
*One special precision & grounded steel plate
Technical Data
| | | | | | |
| --- | --- | --- | --- | --- | --- |
| Size | Pile Height | Cuts/Minute | Power (H.P.) | | Floor Space |
| 20" x 26" | 23" x 29" | 2000 | 3.0 | 60" x 45" | 2.7 |
| 20" x 30" | 23" x 33" | 2000 | 3.0 | 60" x 51" | 3.0 |
| 22" x 32" | 25" x 35" | 1800 | 5 | 62" x 53" | 3.4 |
| 25" x 37" | 28" x 40" | 1800 | 5.0 | 65" x 55" | 4.0 |
| 32" x 42" | 36" x 46" | 1500 | 7.5 | 70" x 68" | 5.5 |
| 36" x 50" | 40" x 54" | 1200 | 7.5 | 77" x 75" | 7.5 |
| 42" x 62" | 46" x 66" | 900 | 10.0 | 84" x 90" | 10.0 |
| 48" x 68" | 52" x 72" | 800 | 15.0 | 88" x 98" | 11.5 |
| 51" x 81" | 55" x 85" | 700 | 15.0 | 94" x 110" | 14.5 |
Contact Us
271-A, East Mohan Nagar, 100 Feet Road,, Amritsar, Punjab, 143006, India
Phone :+918045802205