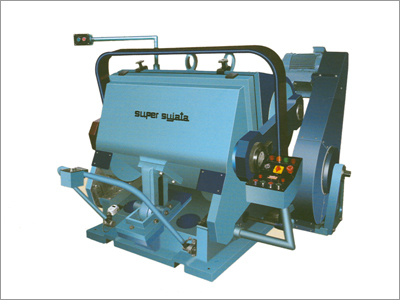 Die Cutting Embossing Platen
Product Description
Die Cutting Embossing Platen
Persistently marching in today's competitive market, our company is recognized as one of the well established manufacturers and exporters of Die Cutting Embossing Platen. While manufacturing a vast array of embossing platen for our customers, we make sure that we use excellent quality materials and components. Offered Die Cutting Embossing Platen is widely used in the printing industry and accredited for its salient features such as precision engineering, user-friendly features and long operational life.
Further Details:

Die Cutting, Creasing and Embossing Platen
Platen die punching is designed for heavy jobs of cutting, creasing and embossing of paper, linoleum, card board, corrugated board, plastic and PVC material etc. Machine is with electro magnetic clutch and brake, dwell timing device, electric impression counter, safety guards for operator's safety, circuit locking and circuit breaker.

Technical Specifications.

Size

Platen Size

Impr
per hr.

Power
(H.P.)

Floor
space

Wt. Appr. M.T.

20"x26"

23"x29"

2000

3.0

60"x45"

2.7

20"x30"

23"x33"

2000

3.0

60"x51"

3.0

22"x32"

25"x35"

1800

5.0

62"x53"

3.4

25"x37"

28"x40"

1800

5.0

65"x55"

4.0

32"x42"

36"x46"

1500

7.5

70"x68"

5.5

36"x50"

40"x54"

1200

7.5

77"x75"

7.5

42"x62"

46"x66"

1000

10.0

84"x90"

10.0

48"x68"

52"x72"

900

15.0

88"x98"

11.5

51"x81"

55"x85"

700

15.0

94"x121"

15.5

Contact Us
271-A, East Mohan Nagar, 100 Feet Road,, Amritsar, Punjab, 143006, India
Phone :+918045802205